Insomniac asked some of their favorite Hip Hop experts to give suggestions for great gifts for the Hip Hop fan on their Christmas list.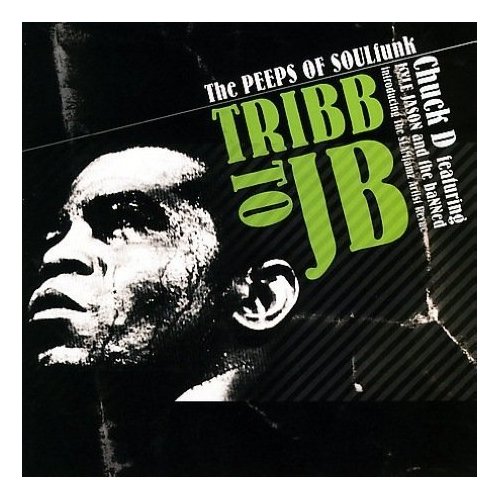 Before we get to their responses here are a few from Insomniac's Editor:
First things first: Almost anything from the Golden Recorded Era of Hip Hop would make a great gift. Go online and look for classic music from 1979 – 1988. Artists such as Run DMC, Public Enemy, Grand Master Flash, Whodini, The Jungle Brothers, Stetsasonic, Ultramagnetic, Boogie Down Productions, The Juice Crew, and others are great gifts.
If the music is on vinyl, even better. Go out and explore some of the best music in the genre, then learn and teach others about some of these gems. If you don't know the history, you don't know Hip Hop.
Don't sleep on Slam Jamz new James Brown tribute release Tribb to JB. You know if it's from Chuck D, it has to be great Hip Hop-

Check out the Ion Cassette Deck to record your old tapes to digital format.

Here's the Portable Flip digital video usb camera to record impromptu freestyle sessions.

Numark's portable, battery operated turntable so you can bring your vinyl on the road.

Don't sleep on The Fat Boys' debut album. These '80s Hip Hop pioneers had a gimmick on the surface, but really delivered the goods.
Here are the responses from our experts:
Kwame Vear
Occupation- Hip Hop Radio Host Veteran (15 years on the air)
Details- Kwame has hosted an insightful Hip Hop Music and Talk Program-"Equilibrium Radio" which currently airs every Wednesday from 4pm-6pm est. on WHCR (Harlem Radio) for over 15 years. Listen to him on 90.5 in NYC or online at WHCR.org or visit
Best Gift For A Hip Hop Fan

Wildstyle 25th anniversary edition

Tommy D.R.E.A.D.
(Hip Hop/Music Human Database)
"The Hip Hop audience needs to obtain some houses, land, and education, since these are more valuable than any gift that could be wrapped up or obtained during Black Friday (the day after "Thanksgiving".) You could borrow money from you house and land (equity) to finance your education. In addition, those three items NEVER depreciate in value. For those who still want to participate in being a helper for a fictional obese man and stick something under a tree, listed below are my 'Best Hip Hop Gifts.'"
Wildstyle (VHS) – I know that I sound like a technophobe, but; so what. The DVD version does not contain the breakbeats (Take Me to the Mardi Gras and God Made Me Funky) that Grandmaster Flash was cutting.
Street Credentials (DVD) – For those who want to comprehend the music industry from a prospective of several independent hip hop performers and producers.
Letter to the President (DVD) – I know this came out approximately 3 years ago. But it is a documentary that examines political and social issues discussed in hip hop community.

Mr. Untouchable (DVD) – According to Amazon.com ,the release date is January 29, 2008. Anyway, this is recommended for the individuals who are interested in the history of Leroy "Nicky" Barnes and spent their $10.50 watching American Gangster.

Anilast aka Stuart de la Rosa
Occupation- Long time radio DJ- Sundays 8-10pm on KSMT 102.3 & 102.7
Roc Radier's "How to Rock a Party"
For beatmaker's memory cards for their drum machines
Pharoh Monch's new album "Desire" is a must!!

For the digital DJ, a Serato system

D.I.T.C For Life……………
Distrakt
Occupation- Hip Hop Producer and Artist
Current album-Distraktions (available in stores and Amazon.com now)
"The Livescribe smartpen. You could record some of your rhymes, while writing them, take notes while your in class. It's bananas and affordable. Here's a link to check the science. "
Lork La Rock
Occupation- Proprietor www.DaHoneyHouse.com
"An all velor, sky blue and white Adidas jumpsuit with a Kangol…ha, that would be a dope gift for a real Hip Hop fan."
Khalid Strickland
Occupation- Extroadinary Hip Hop journalist, director and artist.
Recent film- Thug Opus
Website- SupremeArsenal.com
"'The Wire' season 4 dvd box set- that may have been the best season yet. The hip-hop following for The Wire is huge, plus the final season (#5) is coming out in 2008."
"Also, how about the 2008 calender for Coco (Ice-T's wife). Last year, her people gave me the 2007 calender & the DVD that comes with it. Man, that made the spot above my desk look so much better. LOL."
Deena B
Occupation- Long timeHip Hop Radio Host for Soundbox at 10:00pm on KBOO (90.7) Portland, OR
"The best gift for the hip hopper is always sh*t they don't NEED but WANT."
DJ Nesto
Occupation- Long time Hip Hop radio host and DJ as heard on "The HoneyComb Hideout Show" on WODU in Norfolk, VA
"For any DJ that wants to stay relevant on the party scene I'd say that Serato or M-Audio's Torq is a must. Labels have either stopped servicing vinyl or have cut back extremely hard on wax, and the chosen format has now become MP3s.
DVDs- Style Wars, Beat Street, and the first Breakin' movie are a must for the collection."

Fiona Bloom
Occupation- Publicist
For The Ladies
"BiJules NYC has this great gift item called "Serpensive"- it's a pinky ring– can wrap around 1 or 4 fingers."
{ Comments on this entry are closed }