ARCSIN-OCULUS FANG UNCOMMON RECORDS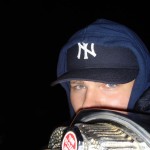 Arcsin, a Brooklyn native now living in San Diego, first wet our mental back in 2005 with his stunning Def Jux debut "Resonant Murk Tactics." Back then he showed us all what was in store from this master beatsmith. Now in 2007, he steps forth on a new and upcoming label, Uncommon Records, with his sophomore release, "Oculus Fang." This release proves without a shadow of a doubt, that he is a phenomenal musician whose name will be mentioned among the greats very soon!
Solid instrumental albums are good because they allow us to appreciate music. On a usual release, the beat is second nature to the rhyming so, I feel it's good to step away from that every once and a while and appreciate what a great beatmaker can bring to the table. One thing you will notice about O.F. is Arcsin really worked guitar samples on every track. Why? I really don't know but, he did a great job in making each sound vary. Another great aspect is the constant tempo change in each song, this circumvents the possible monotony that we hear on so many albums.
Oculus starts out with "Dream Catcher," an in your face track that works a nasty guitar element coupled with some ambience in between. Those effects work well and are arranged perfectly. By the second track ("Scarlet Fever"), you're already soaking in what this LP has to offer. Each of the 14 tracks are it's own entity keeping you tuned throughout.
The track "Apache Cyborg" has that mechanical abstract vibe that you heard on his last LP. By track seven "Megathrash Methuselah", you're thinking to yourself, "all the beats on this next-level album are banging"! Other notable tracks are "Geodesium," "Beatbox Capone" and the finale "Fangdango." My pick for best song though is "88 Tusk Hammers (Reprise)."
The vibe is ethereal and sucks you in its dark abyss. It definitely belongs on a John Carpenter flick.
Oculus Fang is the combination of Blade Runner, Warriors and Style Wars all thrown in a blender adding up to a beautiful concoction. Arcsin is able to produce varied and upbeat tracks that scream innovation, but also keeps the album moving nicely. The syncopations are just that dynamic to the supremely exotic sounds, and pulsating beats. As I stated earlier, Oculus Fang is an album that contains some of the most intricate samples and well thought out concepts you'll absorb this year. All that's left to be said is that that all hip hop fans rush out and get this album. To state that this album is intelligent, informative is an understatement. Please support Arcsin and Uncommon Records buy purchasing "Oculus Fang" @ http://www.myspace.com/arcatraz or http://www.myspace.com/uncommonrecords . Thanks CyPhEr777
{ Comments on this entry are closed }