CHOPPIN' IT UP WITH CARTOONIST MARK BODE
By Khalid Strickland a.k.a. Dirty Angel
Mark Bode rockin' his "Cheech Wizard" hoodie by Puma.
In 1982, while he was attending the School of Visual Arts in New York City, Mark Bode understood just how much influence his late father, cartoonist Vaughn Bode, had on the burgeoning graffiti art scene.  Back then subway cars were traveling, metal canvases used by graffiti artists to display their talents.
"I was waiting on East 23rd (street) for a train and this (express) train went by and I saw this huge production of my father's work go by," Mark recalls.  "It just blew my mind.  I was just like, 'Wow, somebody gave up their freedom to paint a mural based on my father's material.  Who would do that? I've got to meet this person'.  I thought it was just one person at first, and then later when I moved back to San Francisco I realized that other writers were doing it.  I saw it in the streets of San Francisco, and that's when I knew something was up."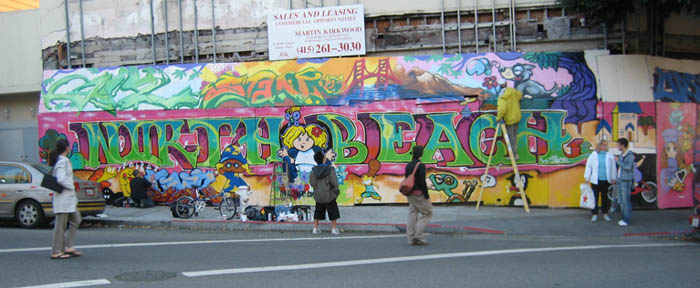 Grafitti piece in San Francisco by Mark Bode, Cuba, Stan 153, K-2 and Desire.
When legendary cartoonist Vaughn Bode dreamed up his flagship character, Cheech Wizard, in 1957, he unwittingly created a heavy cornerstone in the evolution of graffiti art.  Through classic graphic novels like "Deadbone", "Lizard Zen" and "Bode's Erotica", Vaughn introduced the world to his groundbreaking, simple-yet-complex style of cartoon art.  A giant yellow wizard-hat with legs, talking lizards and voluptuous, top-heavy nymphs are a few of the colorful inhabitants of the oft-imitated Bode universe.  Mark Bode not only kept his father's creations alive long after Vaughn's passing in 1975, the son has also built a formidable legacy of his own. A renowned tattoo artist who has graced many a body with his impeccable style, Mark has also partnered with toy-designers Planet 6 to manufacture a collectable "Bode Broad" doll.  Earlier this year, Puma released a limited-edition Bode sneaker and matching hoodie set decorated with the recognizable Cheech Wizard emblem; fans quickly snatched up the coveted items.  Zack Snyder, director of the blockbuster flick "300", is slated to helm the film version of Vaughn and Mark Bode's renowned, post-apocalyptic graphic novel "Cobalt 60".  During my exclusive interview with the famous cartoonist, Mark Bode let it be known that the symbiotic style he shares with father comes easy to him.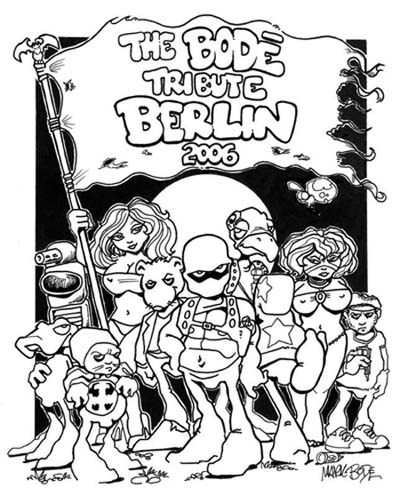 "Bode Tribute" promo featuring Cobalt 60 & Cheech Wizard, by Marc Bode.
"(Vaughn) realized at an early age that I had the want to be an artist like him," Mark explains.  "So he would teach me that his characters were real.  He'd go on a walk with me and (say), 'Cheech Wizard lives over the hill here and that's where his hideout is'.  And we would go and wait for Cheech to show up and we'd often have lunch or whatever… just sit on the hillside waiting for Cheech to show up.  He'd tell other stories about Cheech while we sat there and eventually it just ingrained it into my head that all this stuff was real. Like he would show me a comic book page and then he'd take me on a walk and go, 'This is where it happened.  This is where I saw this happen'.  It was really just him imagining it but he would tell me like it was a real story… like it really happened.  So my reality became his at a very early age and as I get my drawing abilities together, I found it real easy to imagine in his world.  So that's how we started to share a vision.  Now I find it extremely easy to fall into his world.  It's actually more comfortable there than any place else because that's a place we share together.  I can keep him alive there.  When I do my own stuff I'm more brooding, more intense about it; and some of my best work is definitely my own.  But whenever I'm in his world, I'm just loving life and I'm smiling so much my cheeks hurt."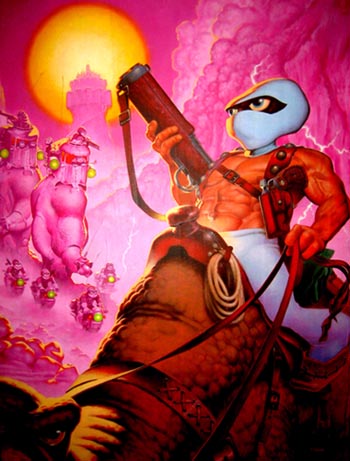 Cobalt 60 by Mark Bode.
Aside from working on the Teenage Mutant Ninja Turtles comic book (the original grittier, darker version), Mark Bode has contributed his artwork to hardcore publications such as Heavy Metal, Epic, Hustler Comics and Penthouse Hot Talk.  Once upon a time in America, adult cartoons such as Fritz The Cat and the classic feature-film version of Heavy Metal  could be seen in theaters.  Nowadays most people dismiss animated films as child's fare.  Mr. Bode frankly gave his take on why adult-oriented cartoons get the cold shoulder from movie studios. 
"People are still really uptight about sex," Mark retorts.  "I don't care how much you put it on the billboards or how you put it on TV or whatever.  We're still a really uptight civilization, as far as the country goes on a whole… there's a lot of uptight people still out there who don't want to see this stuff out.  The big movie companies don't see it as a profitable market to do x-rated comics (as) animated (films).  This also has directly something to do with all the comic book shops that got busted over the last fifteen, twenty years.  They actually had people going around doing a sting operation; where they'd send a seventeen-year old kid into a comic store, and they would tell them, 'Go into the corner there where they say ADULTS ONLY and buy this or that comic book'.  And the person would go in and buy it and then the cops would come in and arrest the comic shop owner.  A lot of people ended up in jail and now they're scared.  So a lot of comic shops won't even have an adult section.  They're still doing it down south, they're still busting people.  And this killed it for this country." 
"That's just at the bottom level… in the comic stores.  But if you go up there's more and more scared people who don't want to put their money where that is.  In Europe or in
Japan it's not a problem.  That's an advanced society that's comfortable with their sexuality.  We are not there yet.  There's still a lot of hurdles there.  We're not going to be having nudity and comic characters together for a little while yet.  I think we're getting there with 'South Park' and 'The Simpsons'; pushing the boundaries of what you can get away with.  Actually the Cartoon Network has been after me for a while to develop a 'Cheech Wizard' cartoon for adult swim.  We've been trying to do a 'Cheech Wizard' show that hopefully won't be watered down.  We might not be able to have complete nudity, but at least we can have the big titties and have the scenarios and the harsh language.  That's what I'm hoping for."                                   
The buxom "Bode Broad" doll by Planet 6.
One fourth of hip-hop culture has totally immersed itself in the Bode universe.  But does Mark Bode keep track of hip-hop's musical element?  
"I do but I think it's been the other way around for so long.  We actually got bit a few times too… in a good way, but then in a bad way (also)," laments Mark.  "You know, The Beastie Boys… they did (the song) 'Sure Shot'.  You know (the line), 'I'm a Vaughn Bode like the Cheech Wizard never quittin' so why don't you listen'… that was really cool when I heard it, but then I saw that they used Cheech Wizard on their video and that kind of bothered me.  So I went after them and then they really wined and dined me and took me to concerts and kept me like one of their pets… but really nothing panned out of it.  I could've sued them, but they promised me that they would do Bode T-shirts with 'Beastie Boys' on them, and we would make hundreds of thousands of dollars.  And it just never happened.  I was hoping to be embraced by hip-hop to the point where I could like, do some album covers… maybe do an animated video for one of the hip-hop songs or something.  And it never really came to fruition.  I don't know why.  Maybe people just thought that the stuff was just street art, or maybe that it was owned by somebody and they couldn't afford to buy it… I don't know.  Del and the Funky Homosapiens (sic), they did a Cheech Wizard thing too, like a homage.  And I got to meet them and they were cool.  But we never did any work together.  It's like… I would be a lot more into hip-hop if it was my bread and butter.  (Like) if it's the characters being licensed by me and it goes out the graffiti people.  I never really embraced hip-hop as my place, although it is (because) the graffiti hip-hop movement is the reason we're still hot.  But actually I like all kinds of music and I've always been into jungle… techno music.  When I'm working I like to listen to music that doesn't have a lot of words, because I like to get lost in the time zone that I'm in.  If there's too many words I feel like it slows me down; it slows time down.  When I'm working I'm not actually listening to a lot of rap.  The kind of music I love to listen to (are) the deejays that mix ethnic music and the hip-hop altogether.  I'm really into ethnic music.  My wife's a belly dancer and I've been into Arabic music for a long time.  Now that it's crossing over I really like all those crossovers."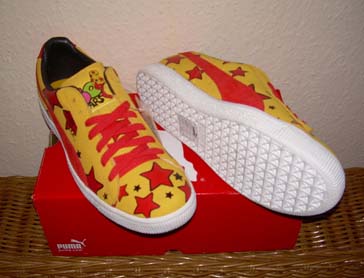 A pair of Vaughn Bode Clydes by Puma.
For more artwork and information on Mark Bode, visit www.markbode.com .  For Bode Broad dolls, visit www.planet6.com .
For more stories and work by Dirty Angel, visit www.supremearsenal.com and www.myspace.com/blackpacino
{ Comments on this entry are closed }