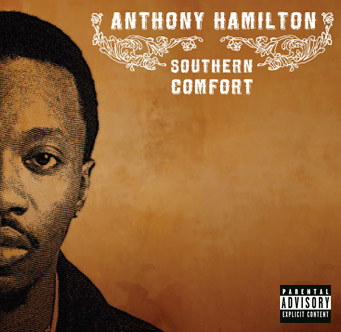 "Southern Comfort" – ANTHONY HAMILTON
(Merovingian Music)
Review by Todd E. Jones
toddejones@yahoo.com
Pain is the essence of Soul music's beauty. Regardless of race, sex, or class, listeners can relate to the soul singer's pain. The music of legends like Marvin Gaye, Curtis Mayfield, and Issac Hayes has crossed a myriad of conceptual boundaries because it possessed a magnificent universal emotional core. The next generation of soul music artists includes Cody ChesnuTT, D'Angelo, Erykah Badu, and Cee-Lo. Unfortunately, many singers get pigeonholed in the generically broad genre of R&B. While their music may be classified as R&B, these artists surpass the typical sound of the average R&B singer who just needs a pathetically weak slow drum beat that they can moan trite lyrics over. Anthony Hamilton is a soul singer who stands out from the rest. His music has the precious quality that instantly connects with the listener. Although he signed to the extremely commercial label, So So Def (owned by Jermaine Dupre), his music is not a pre-packaged gimmick. Like Cody ChesnuTT and Cee-Lo, Anthony Hamilton creates music that has the potential to be timeless. The songs are overflowing with his pain and love. His debut single, "Coming From Where I'm From" was a poignantly sexy, slow burning track that hypnotized the faithless. After multiple albums on the major label, Anthony Hamilton releases "Southern Comfort" on Merovingian Music. A collection of songs from the vaults, "Southern Comfort" features unreleased material that possesses the intensity of a true album.
Hamilton's power lies in his genuine emotion conveyed within his voice, intertwined with his flowing hooks and vulnerable lyrics. The opening cut, "They Don't Know" features a thick heroin 70′s groove. Imagine an old 70′s Blaxploitation movie as the opening credits appear over a ghetto setting. "They don't know all the things that I be going through", Hamilton sings with a commanding tone. Produced by Fanatic, "They Don't Know" is a brilliant representation of the album's sound and feeling. Hamilton's vulnerability shines through the pain displayed on the marvelous "Glad U Called". Produced by Ced Solo, "Glad U Called" is a heartrending track where Hamilton claims that a friend saved him from committing suicide, simply by calling at the right time. "…I'm glad that you called when you called me / Because it stopped me from doing something awful / I've been waiting, contemplating of taking this life away from me…" Lyrically, Hamilton paints a vivid picture of the moment. The listener can mentally picture him looking at his gun on the dashboard of his car. Lyrically, he writes about facing specific and general problems. He sings, "…I been working on this since '93 / and it don't feel good to me, because there's war, famine, diseases. / I'm so sick, sick and tired of all that the world is offering…" His blatant honesty gives the track a refreshing beauty. Hamilton adds, "Never thought I'd have to kiss so much ass" Amidst the sorrow, positive sentiments arise in "Never Give Up". Produced by Ced Solo, "Never Give Up" features an uplifting crescendo for the chorus, which will inspire every listener. "Magnolia's Room" is a love song about a man struggling with a woman who is fed up with his lack of success. Some songs are not as prominent compared to intense tracks. "Please", "Fallin In Love Again", and "Better Love" sound more like typical love songs. "Sailin Away" is a warm closing track.
"Southern Comfort" by Anthony Hamilton is much more than only a collection of unreleased material. The album proves that his major label releases only represent the music approved by the money holders. These songs are too powerful to be shelved. Since "Southern Comfort" is an independent release, fans should consider the album an essential brick in the house of his discography. This love is similar to the listener appreciating an artist's b-sides more than the LP tracks. His album is especially poignant because his vulnerability and honest approach to music makes a prevailing connection with his listeners. This connection reminds his listeners that they are not alone in their struggles. Hamilton's emotional expression will comfort those listeners who can relate to his pain. This album may make you take the gun out of your mouth and realize that you should not blow your brains out. "Southern Comfort" by Anthony Hamilton could be that album that may save your life.
Review by Todd E. Jones
toddejones@yahoo.com
NOTICE: This review is property of Todd E. Jones and cannot be duplicated or posted without written permission.
WEBSITES:
Merovingian Music: http://www.merovingianmusic.com
Anthony Hamilton: http://www.anthonyhamilton.com
{ Comments on this entry are closed }