SUPA NOVA SLOM "HEALS THE HOOD" WITH MEDICINE MUSIC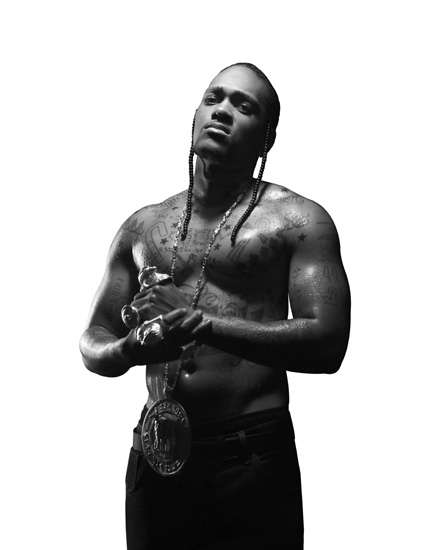 The doctor is in.
     As of late, the once-powerful term "movement" has been tossed around carelessly in rap music.  Scores of confused artists seem to believe that their fugazi record labels and coke-slangin' fantasies comprise a "movement".  But more often than not, these artists don't even attempt to uplift their communities like The Black Panther Party, a true movement in every sense of the word, did once upon a time.  KRS-One has recently resurrected the "Stop The Violence" movement with a line-up of brand new artists, but most rappers nowadays, to put it bluntly, don't give a f**k about politics or anything other than lining their pockets and throwing it our faces.    
     Supa Nova Slom, a hardcore emcee from Brooklyn, has been doing his part to heal the minds and bodies of hood folk everywhere.  His DVD/CD combo "Holistic Wellness for the Hip-Hop Generation" has sold over 100,000 copies independently.  BET.com has proclaimed "Wellness" to be "a documentary that is going to teach self-improvement to the hip hop generation."  Slom is also affiliated with the United Bloods and Crips Family Alliance, an organization dedicated to curbing gang violence.  After running with gangs in the streets of BK and receiving a much-needed wake-up call, Slom has joined forces with the likes of Ben Chavis and Afrika Bambaataa to coordinate community events like the educational and entertaining "Unify The Hood, Heal The Hood" concert/discussion panel.  "Unify The Hood, Heal The Hood" is not only the name of his movement; it's also the title of Supa Nova Slom's upcoming debut album.  The album's first single, "G's Up Salute", features both Jadakiss and The Game.  Erykah Badu, dead prez, and hip-hop's O.G. himself, Ice-T, all contribute their considerable talents to the "Unify The Hood" LP.  In an exclusive interview with Insomniac Magazine, Supa Nova Slom detailed his mission.
     "We're an organization of youth that take a social and holistic stand on the state of the youth right now," explained Slom.  "We have a lot of health problems in our community (such as) asthma, diabetes; youth as young as seven, eight years old are labeled with type-2 diabetes and all types of cancer.  So one side of the movement is focused on getting the health consciousness on point.  Obesity is a health epidemic in this country.  We're getting out (the message) to take back their bodies from a lot of these fast foods and toxic environments that they've been conditioned to be a part of.  And really educate them on the benefits of being healthy, because if they do not take that very seriously then our generation, the hip-hop generation, won't be living to be forty-five, fifty years old.  So that's one side of the movement, the holistic side."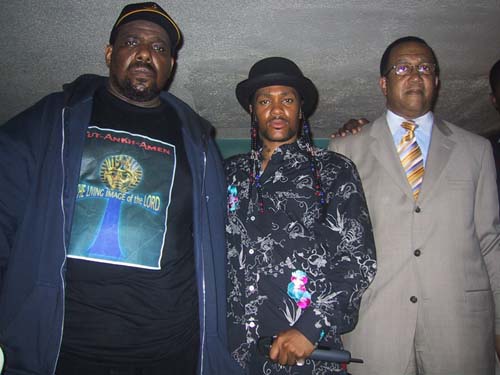 Afrika Bambaataa, Supa Nova Slom & Dr. Ben Chavis
 "Socially, in New York, the gangbang situation… the people in the media won't let you know how crazy it is, but it's very crazy here," articulated Slom.  "The culture from the west coast and the Chicago culture between the Folks (gang) and people out in Chicago nations; the Crip & Blood nations out in L.A.; they have a profound effect on the current youth in New York.  And most of them have never been to L.A. or Chicago or have any direct connects to O.G.'s (Original Gangsters) from there.  Some of them do, but a lot of them don't; there's a lot of miseducation in that situation.   I myself, I have family members that are active in many different sets that have triple-O.G. status and have been really been part of doing positive things with the so-called gangs.  So over the years I've aligned myself with a lot of my various relatives and extended mentors that are O.G.'s that pretty much teach their set or their nation the original principles of what the organizations were about.  One of the original acronyms for CRIP was 'Community Revolution In Progress'; 'Conscious Revolution in Progress'.  'Community Reform Independence'.  This is what they came up out of because they were inspired by The (Black) Panthers; those were the O.G.'s at the time.  Socially they were doing that work so the kids coming up under their (wing)… the first few years of their structure was trying to emulate that.  Then you had the Bloods.  Pretty much some of the principles in their name, the acronyms, (were) 'Brotherly Love Overrides Opposition and Destruction' or 'Brothers Leading Others Out of Darkness'.  Piru, which is an extended branch of the Bloods… currently a lot of the young kids are using is 'Pimps In Red Uniforms'.  But when it came out it was 'Panthers In Red Uniforms', 'Politically Incorrect Revolution United'.  My affiliation with the G's is strictly for the unification and the education to get these young kids back into the original ten.  I'm not telling them to stop being a Damu or Loc.  I'm saying if you're going to be a Damu or Loc, be the best you can be that's productive for yourself and your family and community.  Obviously trying to get kids out of the gangs, it ain't been working. They've been on that mission for the last 20 years and there are more kids being recruited into gangs yearly than they are leaving."
      "The Democrats and Republicans are the same thing like Crips and Bloods," Slom continued.  "They both bang for red and blue states.  The Democrats is blue, the Republicans is red.  People blame the Crips and Bloods, but this country is divided into blue and red states.  We color-bang every election.  And (politicians) flag the red, white and blue.  But the thing about Democrats and Republicans (is) they knew how to exist in the Senate to make the country work on a whole.  So what we're doing in the movement, we're saying we (in the gangs) come from different politics, different neighborhoods (and) different sets; there's been a lot of bad blood between us, a lot of death, a lot of murder.  But collectively we're Black; we're Latino.  And we need to collectively come together and pool our resources and make it work for the whole.  Because if not, our kids (and their) kids won't be in a position of empowerment and it'll be all of our faults.  And that's not gangsta."
For more on Supa Nova Slom, visit www.myspace.com/supanovaslomonline and check out www.supanovaslom.com one of the hottest and most well-designed sites on the net.
For more stories and work by Dirty Angel, visit www.supremearsenal.com and www.myspace.com/blackpacino 
{ Comments on this entry are closed }