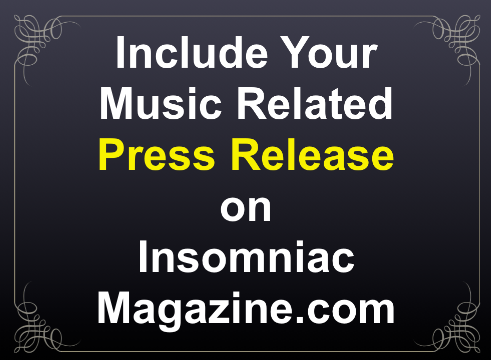 Place your music-related press release on InsomniacMagazine.com for only $19.99. With this service you can include one image in your music based press release and two links to your website, social networking page, or link promotional downloads on your site. The press release submitted cannot exceed 500 words and will include your heading as the title of the post on InsomniacMagazine.com. Press releases will contain a note stating that they have been sponsored by contributor.
Insomniac Magazine has been online for well over a decade and features interviews and coverage including some of the biggest names in music, entertainment, and media. This is an opportunity to have your music related press release included as content right next to some of the major players in the industry.
(Note: Insomniac always reserves the right to refuse coverage of any press release that is decided for whatever reason is not appropriate for the site. If this were to happen, we Insomniac will of course refund the amount paid.)
Use the button below to proceed with payment via PayPal or credit card using the PayPal interface. Make sure to include your name and email address in the "special instructions" portion of the transaction. Once payment has been received, Insomniac will contact you to instruct you on where to email your completed press release containing your links and image.
(Pay $19.99 now to have your press release posted on InsomniacMagazine.com.)