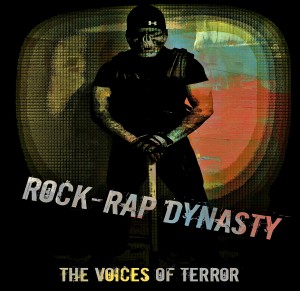 Mike Walker and Zero aka The Voices Of Terror unleash a searing rock and rap hybrid of chaotic madness on their debut album, "Rock-Rap Dynasty." "Warning" kicks things off nicely with the New Jersey duo knocking down walls and wreaking havoc with aggressive instrumentation and forceful rhymes. Their delivery on the song is reminiscent of Chuck D's commanding tone of attack and Kool Keith's off-kilter vocal style. "I Am The Beast" begins with an impressive guitar riff while "D.E.A.T.H. of Rap" sounds like zombies are rising from the grave to destroy any pretenders to the Rock-Rap throne. "Lethal Weapon" contains excellent drum and axe work. The opening beat gives the impression that the group is busting out of some underground lair to shock the audience with a brand new senses-shattering performance.
"The Old Gods" is a tribute to real lyricists(Both Tupac and KRS-ONE merit a mention, among others)while "Insane Lyricist" finds Mike Walker flexing his old school flow over a hypnotically funky beat and smooth bassline (THIS should be the next single!).
"Warrior" is another boastful track where the duo inform listeners that they are ready for battle. "Problems" dips back into an eerie groove while "Dynasty" initially slows down the pace before stage-diving into the frenzied fury the group is accustomed to. On "Save Me" Mike realizes "reality ain't what it used to be" as a thundering guitar riff rains down on him. Bonus track, "Voiceless" brings the album to a close as (true to the title)they leave lyrics and vocals behind to stride through their dynasty with a magnetic instrumental.
"Rock-Rap Dynasty" is an admirable debut. The group must remember to focus on more variation(lyrics, delivery, subject matter, instrumentation)so the songs don't become monotonous…But as the group evolves, that problem will be remedied. Overall, a good effort and definitely worth a listen.
– Kevin Keith