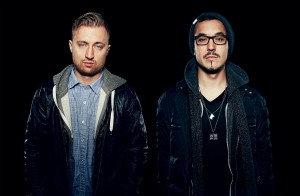 Vision the Kid & Tru represent quality Hip Hop at its finest on their latest release, "Somewhere in a Dark City." "Intro: The Streets at Night" sets the tone for things to come as Minneapolis' underground rhyme slayer, Vision performs a dark, gritty spoken word session over super producer, Tru's aural landscape of city sounds. This leads into the incredible, high energy track, "Love Past Midnight." Vision showcases his lyrical dexterity and observational insight(…"never lose focus, never put trust in a P.O.T.U.S./Why do you think that they don't want any felons to be voters?) as Tru perfectly complements each rhyme with frenetic, pulse-pounding production skills envied by lesser beat makers.
"Devil" allows Vision to become the personification of pure evil. He mentions that he was "the nightstick that got Rodney King beat" and "the brick that hit Reginald Denny in the teeth," during the chaos that erupted around Los Angeles in 1992. As the emcee relays more tales from the dark side, Tru keeps listeners' heads bouncing with a deceptively funky track specifically designed for the dance floor. "None of Y'all"(featuring Culture Cry Wolf's, Mike Daly)is another stand out cut. Vision flows brilliantly through the sonic trail crafted by tech master Tru(The chords on this song are otherwordly!).
"Lucky You"(ft. Justin Dow)finds Vision reflecting on the highs and lows of love over a mellow, understated track with acoustic guitar. It also contains a catchy, cocky chorus, "You got lucky, got lucky when you found me,"that adds a humorous edge to offset the breezy production. "Sunday Morning" ties in with the theme of lost love as the song begins with Vision reminiscing about "the evening in which she ended up leaving." He dwells on both failure and success as the lyricist 'saves his money for a Friday night and saves his soul on a Sunday morning.' Needless to say, Tru KILLS it again on this track. His mood altering musicality will leave both fans and casual listeners highly impressed and inspired.
"Interlude: In the City" continues with the poetic foundation established in the "Intro." It leads into the title track, "Somewhere In A Dark City," a dense, menacing composition that subtly plays off of Vision's name by presenting him as the all-seeing eye to events happening in the Twin Cities…and beyond. "All Goes Away"(ft. Lizzie Fontaine…who SHINES brightly on the chorus)is another personal fave. Tru's behind the boards wizardry on this song is extremely compelling. You'll find yourself playing it over repeatedly to absorb all of the nuances built into the track. Vision even alters his delivery, spitting rapid-fire rhymes in a gruff tone to accommodate the multi-layered rhythmic roller coaster ride designed by the extraordinary producer.
"Roll Call"(ft. DJ Snuggles, Yo Dot, Homeless & Freez)is a funky posse cut propelled by electronic effects, frenetic scratching and a sinister bassline. Vision, Yo Dot and Homeless all put in serious work, but it's Freez who steals the show with his deep, distinctive vocal tone and machine gun flow. "Room #9" details a twisted narrative of loneliness, frustration and empty sex over a slinky, elastic groove. "Red Eye"(ft. Lydia Liza) is absolute funk perfection. Vision sounds especially animated on the soulful laid back track. Much credit must also be given to Lydia for delivering a star-making performance on the chorus with her seductive vocals. "Wires & Knives" is a fairly standard cut in comparison to the previous songs. The production is dialed down and specifically constructed to focus on Vision's memories of past experiences that led him to becoming the man he is today. "Outro: Ode to My City" closes the album with Vision finally seeing the beauty and LIGHT in his dark city.
With this release, the MC and producer prove they have what it takes to conquer both the Hip Hop and Pop charts. Vision the Kid & Tru are serious about their art. Real fans of quality music should reward them by picking up a copy of "Somewhere In A Dark City."
– Kevin Keith