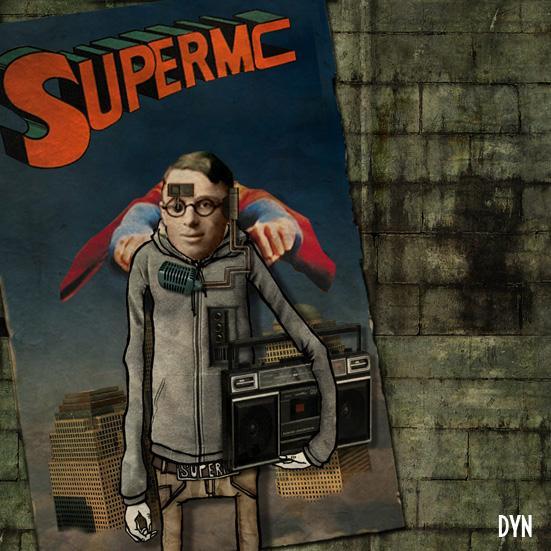 "Fly Your Favorite" or "flyyourfavorite" is the latest release from Indiana's own Id Obelus. I was fortunate enough to review previous release which received much praise; mostly for its supreme creativeness. The question is, can he up the ante on this release? The answer is an astounding yes! As I stated in my last review of IO, his style would be considered by most to be extremely unconventional. But, that's what draws you into his releases, making you listen to them from beginning to end.
On the first track "Soul Dispersion," you get a good idea of what the guy is talking about, but at the same time, he's just a smart fella; he's prone to spit smart rhymes. Often this is in the form of inside jokes, or concepts you might wonder and ponder for more than a minute. The song is one of those overtly playful beats with more thoughts on this whole rap thing. The next track "Voyage from the Frontline" brings back EA's Xcircles whose multi-layered style compliments IO's sing-song style impeccably. The beat is an industrial fused prodding manifesto to one's eardrums. As we all know, the Hip Hop universe is insanely clustered with personal journals, emo hop, philosophical, and depressed rambling. While all of that surely deserves to be out there, getting the alternative from Id Obelus is nevertheless welcomed.
I must add that the mind will drift off, and it's only due to some of the strengths ID doubtlessly has, that you'll often drift along with his train of thought. Especially on the offerings where everything works perfect together, like on the Oblio produced "Rural American Rap". "Insert curse word here…Biatch"!! I LOVE THAT LINE! And once again it's a case of a dope beat making the vocalist sound even better than he does anyways. The next adventure "1991 1987" is ID's battle type track containing a "Nutcraker" type bell that bobs and weaves around the listener before soundly boxing their ears. This appears to be the first track that takes us into the rhyming mind and it is leading us through braggadocios words that give the competition a verbal spanking. Id Obelus is able to adopt his style to the Smirk beat in highly impressive ways. Just like his last release, Oblio handled most of the production with some friends that drop by to offer a helping hand. On the song "You Will Die", Obelus busts a Beastie Boy inspired rhyme that shows how versatile he can be, with the melody enhancing the whole track, making this another dope song.
IO reaches everyone that grows up with less than two TVs and no vacation outside of town and was not content with just putting a couple of tracks together, put 'em on a disc, call it an album and call it a day. Hence this is one of the cases where a rap record is using its potential; talking to people and to bring a story across, easier and better, than any other genre of music is able to. More than halfway thru the 20 tracks, you realize this album is a roller coaster ride with twists and turns. Many of tracks are often still paired with polished layers.
Other sick tracks to check out are "Eyes Down," "Without Use" and fittingly ends with "Emotions" that concludes the album with a shimmery yet insistent instrumental that allows listeners to hear the album's underpinnings from Id Obelus' peerless perspective that further takes the lyrical content beyond the bragging before it again turns to a poetic exploration of serious issues. In a way every artist, if not to say every person has a record like this in him. But only a few actually have the courage or the skills to make the effort and put this record out. But its impact will also very much depend on the mind state the person is in that listens to it. Hence this very much deserves and needs an open door. I'd recommend anyone to pick this up, and to keep a close eye on his next move. Support Id Obelus by purchasing this breathtaking album @ http://www.myspace.com/idobelus . Thanx CyPhEr777