DOGG POUND GANGSTAS… STILL BANGIN'
By Khalid J. Strickland a.k.a. Dirty Angel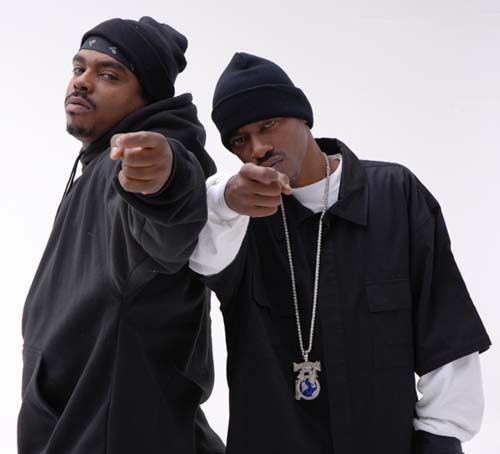 Tha Pound is droppin' some new "Chit"…
I'll be perfectly honest.  As a native New Yorker from the same Brooklyn hood as Biggie, I took exception when California's Dogg Pound (made up of rappers Daz Dillinger and Kurupt) with their homie Snoop Dogg in tow, Godzilla-stomped on NYC's skyline in the video for "NY NY", their 1997 dis-anthem.  At the time The Rotten Apple and Cali were embroiled in a media-fueled "East/West War"; an instigated conflict that snowballed from the beef between two rival record labels:  Bad Boy and Death Row.  We're all familiar with the folklore by now, and indeed it was a crazy time.  However, I liked Daz and Kurupt's music since I first heard them on Dr. Dre's timeless masterpiece, "The Chronic", in 1992.  I also respected the fact that they actually had the stones to film the video in New York City itself.  The buck stopped in Brooklyn, of course, when unknown gunmen licked off a few shots at the Dogg Pound trailer during filming of the now infamous video.  Luckily no one was hurt that day, but for better or for worse, Daz Dillinger and Kurupt have never been the type to flee from drama. Perhaps that's one reason why Tha Dogg Pound Gangstas (also known as D.P.G.) are revered by fans of hardcore street music to this day, moving plenty of units both independently and in conjunction with major labels.
The D.P.G. resume is rock solid.  Tha Pound has appeared on classic albums including Snoop Dogg's "Doggystyle" and Tupac's "All Eyez on Me".  Daz and Kurupt's debut LP, 1995's "Dogg Food", is certified double platinum.  They went on to release several well-received albums both as a group and as solo artists; there was a well-publicized period of time when Daz and Kurupt were at odds after disbanding.  They've dispersed their static, and have released two albums since reuniting: 2005's "Dillinger & Young Gotti II: The Saga Continues" and 2006's "Cali Iz Active", the latter being distributed by Koch Records. Kurupt is widely-regarded as one of rap's most gifted lyricists, and Daz, who's become an independent hip-hop mogul, is a renowned producer; Dillinger has hooked up beats for 'Pac and some of the hip-hop game's other top players.  After dealing with a fair share of external and internal conflicts,   Tha Dogg Pound is still heavy on the grind, and they haven't lost a step.  Their latest Koch-distributed album, "Dogg Chit", is scheduled for release on March 27th 2007.  "Dogg Chit", which is a very high-quality LP, has a much harder edge than that of its predecessor, the too-mainstream "Cali Iz Active".  The Game, Too Short, Bad Azz, Jayo Felony, Brotha Lynch Hung and of course, Snoop Dogg all contribute bars to "Dogg Chit"; a strong album that's soaked in the West Coast G-Funk sound that D.P.G. helped make famous.  During a recent interview, a smoked-out and very down-to-earth Daz Dillinger answered my questions regarding Da Pound's latest project; he also weighed in on the recent war of words between 50 Cent and Cam'Ron.   
Angel: You've got a long catalog of hits.  What is this new joint going to add to your legacy? 
Daz: Our latest album is called "Dogg Chit".  I'm back to doing what I'm doing.  I'm producing.  Putting the whole album (together), I produced it.  I didn't produce "Cali Iz Active".  But I produced this "Dogg Chit" album and it's a different vibe.  It's more hardcore street; what people expected.   
Angel: So what made you decide to keep the production self-contained this time around? 
Daz: 'Cause usually, m***********s be actin' shaky with the paper, you know what I mean? So, I make more money doing my own beats and putting my own records out, than a person who want to buy a beat from me.  So it's like, why give them a beat when I can make the money and keep the beat.  So really I just didn't have a lot of people to give my beats to, 'cause I'm a loner.  I hang by myself.  So you know… the more m***********s you hang with, the more you gonna get in trouble; and somebody's gonna do some stealin' 'round here. (laughs)  
Angel: Have you ever made a beat that you were like, "Damn, I should've spit something on that myself?" 
Daz: Yeah, I do a lot of beats like that.   Like the beat I did for T.I.; I got a beat similar to that, the same drum track and everything for my s**t called "My Life Part 2"; with me spittin' on it.  Hold on a second…  (answers cellphone.)  That was Kurupt, he's on his way up here too.  But you know, we're just back on the grind doing what we do. 
Angel: Ya'all have been in every type of situation as far as labels.  What are the advantages of being with Koch Records? 
Daz: Getting paid seven, eight dollars a record.  They kick up a little bit and they got the straight distribution part.  I got like four distribution deals right now and this just adds on to the fire; another log for the fire. 
Angel: So what do you hope to accomplish with "Dogg Chit"? 
Daz: To re-establish what I've invented.  Like… when I did the album on So-So Def, I didn't really get to do what I wanted to do.  I ain't really get greazy and grimy and all that other type of s**t.  On this one, I'm doing what I'm doing.  F**k listening to what everybody talkin' about. 
Angel: Do you feel that the popularity of the internet has helped ya'all or hurt ya'all?  
Daz: Yeah (it's helping), 'cause you can go online right now and buy my s**t direct from me.  On MySpace, when you go to the Dogg Pound you can buy the music direct.  Albums that aren't even out (in stores). (Music) that I put out just on the internet… that you can download when you put that $9 in there, instead of buying from "them"… you know what I mean?  It all helps out.  But, it's all about how you package your stuff, what kind of artwork you gonna put on there.  That determines… if you've got a classic album cover and some artwork in there and it's affordable, they're gonna buy it.   
Angel: So how do you think west coast rap music, in particular, has changed since you dropped your first s**t up until now.  Or do you even feel it's changed at all? 
Daz: It most definitely changed (Laughs).  Like, the state of music today is where the west coast was back when The Egyptian Lover and them… you know, Rodney O and Joe Cooley (were making records).  If you listened to that you would think that was a south beat now.  So it's like, we're back to the original sounds right now; 808 kicks, drums and claps and snares and stuff.  It's all about bass, how much bass you can (add).  That's all I'm into right now.  My whole next album gonna be with those 808 kick drums, just them sounds.  Just like how the south got their sound, I'm into that right now.  And that's where it all started from it's just about bass and how I put my music.  And you know, it don't really matter where you're from.  You got a lot of people (that) put them sounds in there.  It's all about… you got to get with the culture.  If you don't you'll be stuck. With a SP-1200 or something.   
Angel: How's the west coast peace treaty holding up? Everything all good with that? 
Daz: Oh yeah, everything's  good, man.  We still  doing it.  All of California we still mashin'; we working together, you know what I mean?  'Cause usually we never work together.  So we bridging the gap putting people on and that's what it's about.  Now everybody else beefin'.  So we gonna let them beef while we get this money.  There's a gap right there.  When we were beefin', they came in, got the gap.  You know what I mean?  
Angel: So ya'all ain't really with that on-record beef.  What's the difference between real beef and on-record stuff for those who may not know?  Because I think a lot of people confuse it sometimes. 
Daz: They put in on record but you got to see that m**********r too.  Know what I mean? And you gonna see the world's small.  So we ain't really into dissin'.  We just catch a m**********r, know what I mean?  'Cause I could be doing a whole lot more way better than that. Unless it's like a big beef and you getting money off that s**t, you know what I'm sayin'?  Like I'm looking at the 50 and Cam beef now.  Who you think gonna win that one? 
Angel: Aw man, that's tough.  50 got much more power and influence within the industry right now, I will say that… 
Daz: But Cam and them got them streets, though. 
Angel: That's right.  I was just gonna say that. 
Daz: It's two different things, the money and the streets.  You can get a m**********r killed with the money, but a broke m**********r with a kid will kill you're a** even faster (Laughs).  'Cause right now they got the little video out with 50.  And they said Cam shot his video last night.  Yeah, (Cam's dis song for 50) "Curtis".  I'm high as a m**********r, man.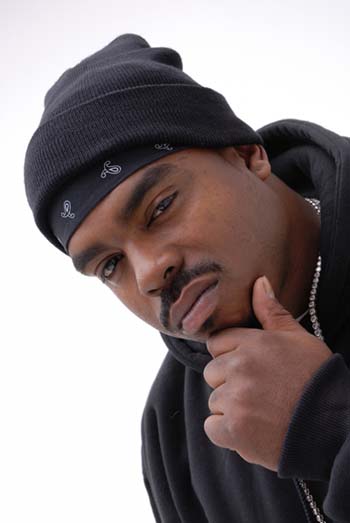 Daz Dillinger
Angel: So let me ask you a theoretical question.  You and Kurupt are street n****s for real, ain't nothing fake about ya'all.  How do you feel about artists who make great street records and gangbanging records to listen and dance to, but they don't live that life?  
Daz: I'm fixin' to go hang with 'em and see what they talking about (Laughs).  We gonna see what they talkin' about, n***a.  We gonna make it happen.  First, let's hit the dope spot… where the weed at? Know what I'm sayin'? That's how I do it.  When I go state-to-state campaigning like the president, and I'm on an independent mission and I'm looking for that… that's what I do.  I hit state-to-state and I find "the weed man".  Once I find where it's good weed at, that's the whole city right there.  The weed man controls the whole city, na'mean? Once I get that, then I got the streets.  And all they gonna do is say, "Dat n***a Daz was over here, man."  And I'm coming back through to get another one. 
Angel: No doubt.  So you diggin' the trees in NY? 
Daz: Oh yeah… my homie (*******), he got it.  I had hooked up with some Russians too… they had the s**t too.  They had it in Queens; they had "High Times" magazines everywhere.  Some black (weed).   
Angel: So I take it you've been to Amsterdam. 
Daz: Yeah, I been over there.  Yup.  You hit the wall and a thing lights up and it's a whole menu full of weed.  I went to The Bulldog Shop.  That's the name of the coffee shop out there.  Man, if I was to give up my citizenship, I'd move there.  For real.  Yeah, I'm ready to smoke now. 
Angel: Would you say that's a necessary ingredient in a Daz production? Blazin' up? 
Daz: Yeah, blazin' up accordingly.  Yeah, I smoke a lot of weed.  I think I should make me an album called "Weed" so it could pay for all the weed I smoke. 
Angel: When you make a beat do you have a particular method that you follow? Is there a method to your madness?  
Daz: I like to sample a lot of things and get an idea off of what they had… but not use what they got, you know what I mean? And play around (with) it.  You might use one-and-a-half bars, it's all about how you makin' it.  Then you add all that other spicy stuff.  And by the time I'm finished with it, they don't even know it's they're s**t (Laughs).  It's all about being creative with the music.  'Cause I can stay in my house for two days and come out with a whole album in two days.  Seriously about it.  Lyrics, beats, ready to mix in four days.  And then I'mma press it up the next day and I'm getting paid and I'mma be back at it again… another album.  This Dogg Pound album; I spent $7,000 on this album, as far as putting it together, mixing it and all that other type of stuff.  It don't take all that money to mix it.  You got to be serious about it.  Everybody that's featured on there, they did it for the love.  Like Too Short, Game, Bad Azz, Snoop Dogg, Brotha Lynch Hung, Jayo Felony, B.G. Knockout, Dresta.  And Jayo Felony, B.G. Knockout and Dresta (were people) I was feuding with for years.   
Angel: Did ya'all put that stuff to the side when Snoop called the peace conference together? 
Daz: Yeah, I put it all to the side.  He made a shot-call.  Ain't nobody making no money beefin'.  Unless you Cam'Ron and 50 Cent (Laughs).  Yeah, I'm in here lookin' at the one who started the beef, Alan (Grunblatt).  He the one who called up there first… you hear his voice (Laughs). 
Angel: So what's good with Nate Dogg? I know he's a frequent collaborator but I didn't see his name in the credits on this new joint. 
Daz: On this album? Naw, Nate costs too much. 
Angel: Costs too much? That's fam, right? 
Daz: Yeah, that's fam.  I couldn't find him for this album.  I was just on a mission.  Nate do his thing, everybody in the Dogg Pound do they thing, y'know what I'm sayin'? Sometimes he don't be around where I be at.  But we all good and s**t, you know? 
Angel: What is it about you and Kurupt that make ya'all vibe so well? Ya'all got great chemistry on-record, man. 
Daz: S**t, we was making money all these years together.  Why stop? You know, we both the brains, we just got to put this music together.  And I stay on the grind.  Like right now I'm doing a movie called "Make it Rain".  It's an Atlanta movie I put together.  We shooting right now, it's a stripper movie.  Bad (chicks), p***y, a**, booty, weed, everything in this m**********r.  Everybody that be in the strip club, all the real n****s that be out there in Atlanta, (they're) in the movie.  We're shooting it right now at (Club) Stroker's.  So, it's some bad (chicks) in this movie.  They showin' nothing but pink.   
Angel: It's a documentary? 
Daz: No, it's dialogue.  This is an actual film… people got parts, all that type of s**t.  No documentary. Ain't nobody else gonna put me in no movie so I got to do my own s**t.  But I'mma do it good 'cause we know what we're doing.  I bought the cameras and everything.  M***********s be trying to charge you all this money to do s**t.  So let me buy my camera so I can shoot my own s**t any time I want to. 
Angel: Any parting thoughts? 
Daz: I got 17 tracks on ("Dogg Chit").  I put my all into it.  This is the second Dogg Pound album that we have.  After "Dogg Food" was supposed to be "Dogg Chit".  Cause you know (due to) the beef and all that, Snoop put the "Cali Iz Active" (album) together.  Peace to Snoop (for) putting it together, but that album almost killed us (Laughs).  The "Cali Iz Active" song put the peace thing together, but as far as the sales and all that… it was too commercial.  Was it too commercial? It had Puffy on there (Laughs).  Know what I mean? This one got street n****s on this one.  This the one I put together.
For more info on Tha Dogg Pound and "Dogg Chit", visit www.myspace.com/thadoggpound and www.thadoggpound.com
For more stories and work by Khalid Strickland a.k.a. Dirty Angel, visit www.myspace.com/blackpacino and www.supremearsenal.com
{ Comments on this entry are closed }