Freestyle: The Art Of Rhyme
10th Anniversary Special Limited Edition
Have you ever seen MC Supernatural live? Well, if you had the opportunity to see him create freestyles out of thin air, then you know you have seen a great show. For those not lucky enough to see the legendary freestyle Hip Hop artist like Supernatural, Lord Finesse, Black Thought, Mos Def, and Craig G in person, Freestyle: The Art Of The Rhyme should be a part of your Hip Hop collection. This DVD is impressive and historic. In this 10th Anniversary Special Limited Edition, we see firsthand the icons who made freestyle and battle rapping popular. This documentary takes you into the rap cyphers that separated the Hip Hop heads from the impostors.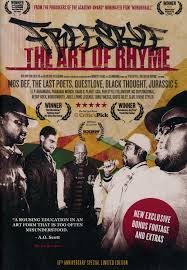 This DVD lets you into the world of artist like Bahamadia, Planet Asia, Questlove, Jurassic 5, Juice and other notable freestyle masters. If you are hungry for real lyrics and Hip Hop on another level, you will love Freestyle: The Art Of The Rhyme.
As a Hip Hop fan it was great to see archival footage of Juice vs. Supernatural and Supernatural vs. Craig G (Part 1 and 2). Currently, the art of the rhyme/lyricism has taken a backseat to studio gangsters and other charlatans. This documentary is definitely worth viewing.
Freestyle: The Art Of The Rhyme's special 10th Anniversary Limited Edition does a good job exploring the world of battle rap. This is a true depiction of the underground culture of freestyle Hip Hop and is therefore must see TV.
by Tony Samuel
{ Comments }