Every day the Insomniac in-boxes are flooded with new material that staffers must vet and scrutinize for the selection of our Weekly Top 10. It's not an easy process…especially since there's no carry-over of tracks from the week before…BUT the end result is something fans and supporters of true Hip Hop music can officially stand behind. With that being said, some of our writers do need a "time out" when their selections don't make the cut. We usually send them on a nice vacation when things get especially heated…so considering how grueling it was choosing today's picks, we're expecting a lot of empty desks this week. Ah, well…That's just how it goes when you're passionate about your work. But work and play are all the same when you're creating quality music for the masses…or in this case, the underground…like the gifted artists listed below on the latest edition of Insomniac's Weekly Top Ten.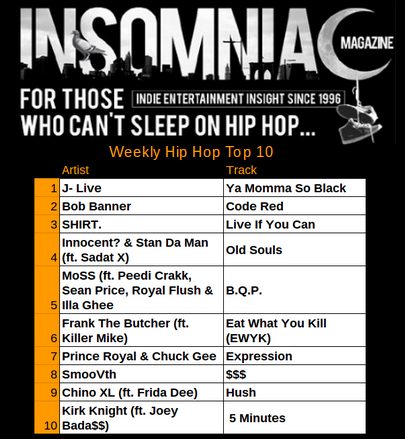 1) J-LIVE crafted a creative, thought-provoking, and completely original gem with the track, "Ya Momma So Black," from the artist's "How Much Is Water?" album. What makes this so different is that instead of going for the usual "Ya Momma" punchlines we've heard so many times before, J-Live turned the negativity associated with "blackness" on its head & created a positive, heartfelt song dedicated to all the strong mothers of color who hold it down for their children. Not many emcees are capable of releasing a track like this that doesn't sound preachy or sacrifice the Boom Bap. It takes a certain man of character, skill, vision, and technique. All of those qualities are embodied in a one-man lyrical/production powerhouse who goes by the name J-Live.
2) BOB BANNER has dope projects for days! He returns to our list AGAIN with the high-energy, regwriterrythmz produced, "Code Red," from his forthcoming "Gamma Project" LP. One listen to this and you'll want to start breaking things…LOTS of things!!! But that's just the kind of raw energy Bob delivers! It absorbs your being and controls your very soul! We might need an exorcist…or at the very least a doctor, 'cause it's an emergency up in here! The funk is makin' our heart rate accelerate & we can't stop it from slowing down! Code Red…Code Red! Somebody call 911!
3) SHIRT has been collecting the dough with his #250OnSoundcloud campaign & all we can say is producer Army Zenn's money was well spent when the enterprising lyricist hopped on his track. "Live If You Can" is a funky mix of vibrant instrumentation and bounce worthy beats that are enhanced by SHIRT's electric delivery. You can tell the emcee is feelin' the track by the energy channeled through his vocals. We're feelin' it too. That's why it earned a spot on our list!
4) When INNOCENT? and production powerhouse, STAN DA MAN, released a bonus cut from their "Whip Appeal" album, featuring SADAT X, expectations were at an all time high. One listen to the explosive track assured us that our expectations were met…and exceeded! "Old Souls" finds Innocent? tearing into Stan's raw, soul-fueled soundscape with the fury of a savage warlord battling it out to the death. When Sadat X drops in for his electric turn on the mic all competitors are swiftly vanquished, never to return again. Oh yeah, REAL Hip Hop's back…and you can find it on "Old Souls!"
5) Toronto production master, MOSS, called on the rhyme skills of a few heavy hitters for "B.Q.P." from his forthcoming "Marching To The Sound Of My Own Drum" project. PEEDI CRAKK, the late SEAN PRICE, ROYAL FLUSH & ILLA GHEE don't just rhyme on the track…They BODY it! This is one of those cuts you keep on repeat. As we post this it's replaying right now!
6) FRANK THE BUTCHER enlisted KILLER MIKE for a promo song commissioned in conjunction with his new collection for Puma. Personally we don't care about the sneaker line…but we DO care about the music! That's why "Eat What You Kill" (EWYK) is officially added to our collection of dope new joints for the week. Listen to that sinister track that sounds like rabid dogs lurking around a corner, waiting to attack! Killer Mike's contribution here is brief but powerful. You don't need an excessive amount of lyrics when you possess skills like this!
7) The Voyagers bring their mastery of the mic to the masses yet again with PRINCE ROYAL & CHUCK GEE's new joint, "Expression." As always, the content is of the highest quality. Combine that with the creative emcees' head-spinning flows and all we can say is, "WOW!" The crew definitely possess a Souls Of Mischief vibe that instantly registers with listeners. They could rhyme for hours non-stop…and every lyric would produce a gem.
8) SMOOVTH took us on a laid back, stream of consciousness joy ride with his new Doktor Rheal produced cut, "$$$." #TheWinners lyricist once again demonstrated that he has the dopest flow in the game with a reflective track we couldn't get enough of! "$$$" brought back lots of great memories. Play it again to travel back to a better time.
9) The incredible CHINO XL teamed up with FRIDA DEE for a phenomenal Jonathan Hay & Ajami produced track about addiction titled "Hush." True heads KNOW what Chino brings to the table – Sample line: "We were drinking at Amy's Winehouse while I was writing this rhyme in Heath's Ledger."…F**king brilliant!!! Add Jonathan & Ajami's exquisite soundscape into the conversation and you have a surefire winner! "Hush" is a song that can't be silenced!
10) KIRK KNIGHT joined forces with his Pro-Era comrade, JOEY BADA$$, for the scorching "5 Minutes" from his "Late Knight Special" album and set things off the right way! Listen to the interplay between the artists & marvel at the skills. All beats and rhymes should sound this good!
Well, that's it for this week. Catch ya next time and…DON'T SLEEP!
– Kevin Keith
{ Comments }